Since last 50 years we have been successfully accomplishing various types of large scale projects, e.g. Residential, Housing, Commercial Buildings, Industrial buildings, Educational, Institutional buildings etc.
We served as Consultant/Architect-Engineer of:
* HOUSING INFRASTRUCTURE DEVELOPMENT CORPORATI0N (HUDC0), GOVT. OF WESTBENGAL
* NEWTOWN K0LKATA DEVFLOPMENT AUTHORITY (NKDA), GOVT OF.WEST BENGAL


* NABA D1GANTA INDUSTRIAL TOWNSHIP AUTIIORITY (NDITA), GOVT. OF WEST BENGAL
* DIGHA SANKARPUR DEVELOPMENT AUTHORITY (DSDA), GOVT. OF WEST BENGAL
* WEST BENGAL HERITAGE COMMISSION, GOVT. OF WEST BENGAL
*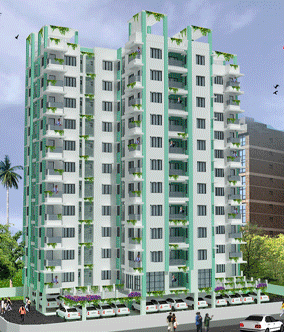 KOLKATA MUNICIPAL CORPORATION (KMC)
* WEST BENGAL STATE ELECTRICITY TRANSMISSION COMPANY LIMITED (WBSETCL)
* KOLKATA METROPOLITAN DEVELOPMENT AUTHORITY (KMDA), GOVT. OF WEST BENGAL
* BENGAL AMBUJA HOUSING DEVELOPMENT LTD.
* BENGAL SHELTER HOUSING DEVELOPMENT LTD.
* DLF LTD. * RICE GROUP * KHADIM LTD. * DTC PROJECTS PVT. LTD.
* MACKINTOSH BURN LTD.
* M/S. INDIAN OIL CORPORATION LTD, HALDIA REFINERY
* THE SCOTTISH CHURCH COLLEGIATE SCHOOL AND COLLEGE
* M/S. GARDEN REACH SHIP BUILDERS AND ENGINEERS LTD.
* MANINDRA CHANDRA COLLEGE , KOLKATA
* ST. THOMAS' COLLEGE OF ENGINEERING & TECHNOLOGY.
* MARTIN BURN LTD.
* MITRA INSTITUTION (MAIN), KOLKATA
* INSTITUTION OF ENGINEERS, INDIA
* BENGAL CONSTRUCTION Co. * BANGUR GROUP
* SAMAYTHA MATH, BANKURA
* Several houses and Buildings, Bungalow Commercial Buildings, Multiplex Salt lake, inside and outside the Kolkata
A few of our projects :-
SUJATA ENCLAVE, Housing complex at MG Road, Kolkata - "Burman Commercial Center", Joshi Kuthir -"JORABAGAN CESC CASH OFFICE", Multistoried Ownership Apartment at Bangur Avenue, Kolkata, Multistoried Ownership Apartment at Jatindra Mohan Avenue, Kolkata, Housing at, Sisir Bhaduri Sarani, Kolkata, MILENNIUM BUILDING, The Scottish Church College Etc..
Project at New Town, Rajarhat , Kolkata :
Successfully completed more than 60 projects and entrusted more than 150 projects for Individual Plots, HIG/MIG/LIG Registered Co-Operative Societies, Bulk Registered Co-Operatives and Commercial Plot at New Town, Rajarhat, Kolkata.